Hazel Dormice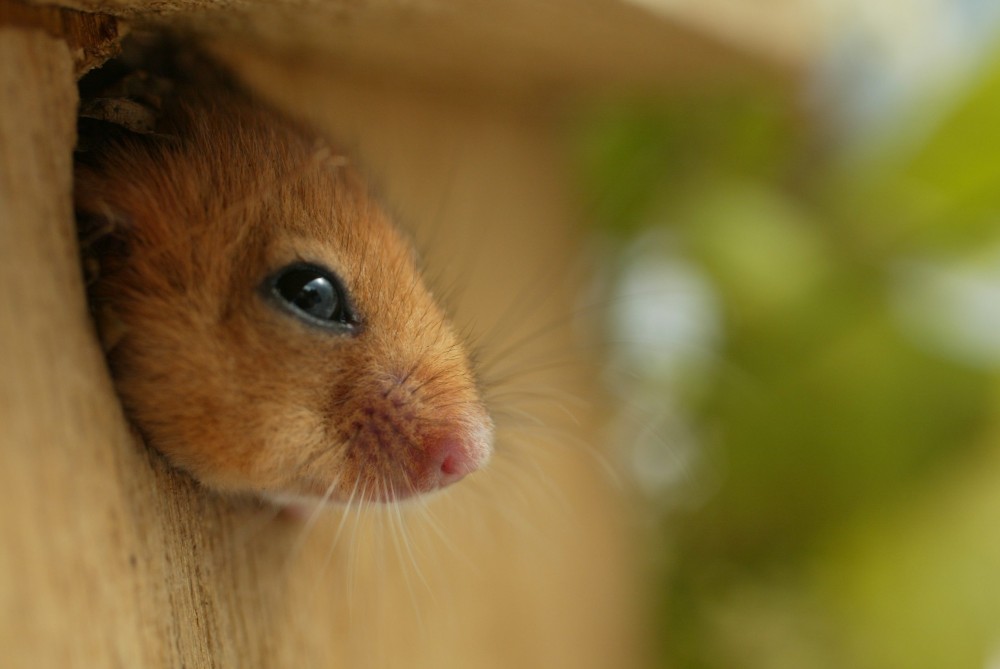 Dormice are already extinct in some areas, having once been widespread throughout much of Britain. Our campaign is reversing this devastating decline.
Hazel dormice are hanging on mostly in the southern parts of England and Wales. But changes in woodland management, farming practices, loss of hedgerows and the fragmentation of woodland have all taken a heavy toll on their living space.
Dormice are a protected species in Britain and regarded by government, as well as us, as a priority for conservation action. Our dormouse campaign has three main elements:
Our nationwide monitoring scheme keeps a close eye on how dormice are doing. We have over 25 years of records painstakingly collected by hundreds of volunteer monitors that guide our actions to save dormice.
Our reintroduction programme has so far covered 12 counties at 22 sites. We regularly check how they are faring and how far they've spread and advise on dormouse-friendly land management.
It is so important to manage woodlands and hedgerows appropriately that we provide training and guides for woodland managers and others looking after the land.
Dormouse facts and reasons for their decline
As well as being good indicators of animal and plant diversity and delightful little animals, hazel dormice are part of the most ancient group of rodents in the world, dating back more than 40 million years.
Dormice need well managed woodlands connected by hedgerows so that they can spread. They thrived when hazel trees in woodlands were regularly cut back (coppiced) because this provided plenty of fruiting trees for food. Despite the revival of coppicing in some areas, many woodlands have changed too drastically to support dormice. The loss of two thirds of the nation's hedgerows, and the lack of suitable management of many that remain, makes matters worse. The dormice that do remain have limited living space and are increasingly isolated.
With your support we can save them before it is too late.
To learn more about the life of a hazel dormouse see our fact file.
The National Dormouse Monitoring Programme
We collect dormouse records from around 400 monitoring sites across England and Wales.
The monitoring programme has been going for over 25 years and has several hundred trained monitors responsible for organising surveys using dormouse boxes throughout the year.
Last year 6,182 dormice were recorded and 414 sites submitted their records. We're extremely grateful to all our dormouse monitors for their amazing contribution to the programme. Read the latest findings and articles in our publications section.
Take part
Dormouse nest boxes
Dormouse nest boxes are central to our scheme. These wooden boxes are similar to bird boxes, but with the entrance hole at the back of the box facing the tree. As well as providing additional shelter for hazel dormice, and other visitors, they offer a way for us to detect these rare creatures. Large numbers of boxes can even boost populations.
Please note inspecting nest boxes requires a licence from Natural England or Natural Resources Wales in areas where dormice are already known to be present. If boxes or tubes are put out speculatively to detect presence, this in itself does not require a licence, but a licence is essential once the first dormouse has been found.
Dormouse monitoring conference
In 2016 we held our second Dormouse Monitoring conference for NDMP volunteers. You can view videos and other resources from the weekend here.
Reintroducing dormice
We are returning hazel dormice to parts of Britain from which they are lost or where their numbers are worryingly low. In partnership with various other organisations, we've already released 864 dormice over 24 years and returned dormice to six counties where they'd sadly become extinct.
The success of the reintroductions is carefully monitored. At five sites dormice have successfully spread throughout the woodland where they were released. At seven sites they've done even better, not only dispersing throughout the wood but starting to venture into the wider countryside. Great news.
This summer we will release 19 breeding pairs or trios into an undisclosed woodland location in Warwickshire on 20th June. Our 27th dormouse reintroduction, in partnership with Warwickshire Wildlife Trust, follows an earlier successful re-introduction at Windmill Naps in Warwickshire in 2009. This project is part of the Princethorpe Woodlands Living Landscape Scheme, which is supported by the Heritage Lottery Fund. Follow live updates on the day on Twitter following #dormouseday.
Our 2016 reintroduction
In June 2016 we successfully reintroduced 38 dormice to a woodland in Wensleydale in North Yorkshire. The dormice were released into large cages secured to trees. A team of volunteers then checked the cages and provided food and water whilst the dormice got used to the sounds and smells of their new wild home. After two weeks' small openings were made in the cages allowing the dormice go free and explore their new surroundings.
Nest boxes have been put up in the wood to give the dormice somewhere to nest over the summer and autumn. These were checked in the autumn and in September 2016, 32 dormice were found living in the wild. In May 2017 the boxes were checked again and 10 adult dormice were found. This excellent result suggests that the reintroduced dormice are settling into their new home.
The 2016 release was part of a wider project leading on from a successful reintroduction at Freeholders Wood in 2008, also in the Wensleydale valley. PTES, in partnership with the Yorkshire Dales National Park Authority, has now started a project to link the two sites with dormouse-friendly hedgerows. We know dormice were found in the Valley in 1885 but they became locally extinct – it is very exciting to be able to restore them to their historic home.
You can read about the progress of our dormouse reintroduction programme in the recent strategy review
Dormouse training and guides
Learn more about managing land for dormice to give them the best chance of survival by attending one of our professional training courses.
You can also learn more in our online training area and in the leaflets below.
If you'd simply like to get the chance to see these endangered mammals in their natural habitat, join us on a Wildlife Encounter.
Resources to help and survey dormice
Dormouse research
As well as our own efforts to help dormice, we support vital dormouse research projects around the country. Read more about our latest projects and how you could apply for funding.
We've also compiled this searchable review of 100 dormouse studies.
Other recent studies
The Status of the Hazel Dormouse in Warwickshire, Coventry and Solihull in 2016